As Western Balkan countries face the need to decarbonize their energy systems, local communities face the challenge to ensure a truly just transition. Participating in a panel discussion in Sarajevo on this topic,  Nikos Mantzaris showed how Greece can serve as an example for the "do's" and "don'ts" in this process. As the country is well on the road to transition, he distinguished three major factors that play a determining role: funding, governance, and strong political will for a shift to renewables.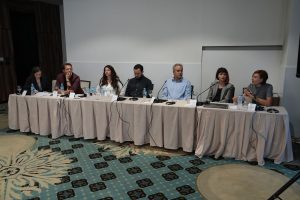 In particular, commenting on Just Transition funding, he mentioned that even though 42% of the available funds have been mobilized so far in Greece, the prioritization has proven to be problematic and does not respond to the most urgent challenges of the transition. He further criticized the fact that governance in Greece is top-down with a significant lack of participation of local stakeholders which results also in problems with fund absorption. He concluded that the governance mechanism needs to foster dialogue, synergies and participation in the decision-making process.
He further stressed that setting a coal phase out date is crucial for the success of Just Transition, while equally crucial is to choose the right path to substitute the electricity from coal. The crisis has emphatically shattered the theory that gas is a transition fuel. The logical, cheaper and climate-friendly route is to go from coal to renewables, and energy savings together with all supporting infrastructure. On the one hand, Greece can be thought as a regional example in terms of scale-up of renewables in electricity production. On the other hand this progress was made with major delays bearing a significant cost because Greece wrongly invested in gas as a transition fuel.
The panel discussion was held in Sarajevo on September 2023.
Οther panel participants included:
Diana Milev Cavor, Eco-Team
Dragan Ostić, Center for Environment
Ognjan Pantic, Boston Open School (BOS)
Corina Murafa, Economic and Social Council
Ioana Ciuta, CEE Bankwatch.
The panel was coordinated by Nevena Smilevska, Bankwatch CEE